I LOVE a good linky party! When I saw Kristen (
A Teeny Tiny Teacher
) and Hadar (
Miss Kindergarten
) were hosting, I knew I had to join in.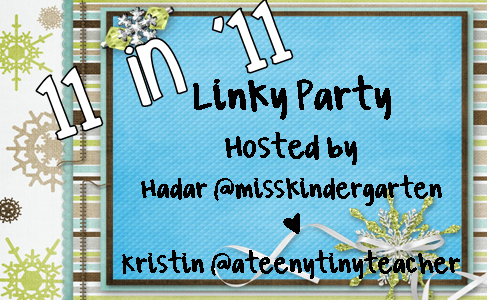 11. Favorite movie you watched
The Help. Loved the book and loved the movie!
10. Favorite TV series
I really like any of the Real Housewives. Also, and I know this is going to sound strange, but....I really like Deadliest Catch! I don't know why, I just do. Please don't judge!
9. Favorite restaurant
Abuelo's. They have a pasta and shrimp dish that is FABULOUS!
8. Favorite new thing you tried
It would have to be blogging. I was so afraid in the beginning that there wouldn't be anyone who cared what I had to say. But it has been the total opposite. Thank you everyone in bloggy world for being so nice and inviting!
7. Favorite gift you received
My husband got me a Nook Color for Christmas and I LOVE it. I was always one of those people who said, "But I want to be able to HOLD my book." Boy was I stupid misinformed.
6. Favorite thing you pinned
I found this really cool fall porch decoration:
I made my own, and while they didn't turn out quite as nice as these, I still really liked them.
5. Favorite blog post
It would probably have to be Glitter Confession, even though I still cringe when I think about it!
4. Favorite accomplishment
Well, this isn't really MY accomplishment, it belongs to my oldest. He is in Kindergarten, and one day when I was typing away on this blog, he was standing over my shoulder and would point to words and say, "Mommy that says...." I can remember about falling out of my chair. I knew that he could read about 50 of his sight words in isolation, but the fact that he picked them up in my writing was a very exciting, proud moment for me as a mommy.
3. Favorite picture
On Christmas day, we took a picture with my granddaddy (who is 92) and all of the great-grandchildren, or as many of them that would sit still long enough!
That would be me trying to keep my youngest in his chair until after the pictures had been snapped....let's just say that didn't work out to well!
2. Favorite memory
Getting our boys their new puppy, Tucker. Oh the screams of excitement! And the boys were excited, too!
1. Goal for 2012
I recently bought and read the Daily Five and Cafe from The Sisters. My goal is to try to implement them into our language arts time. If you have any advice, please share!
Happy Wednesday!